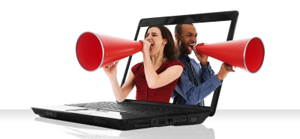 Social media marketing in Malaysia is hot! It is also the latest trend and the most powerful method in promoting your products and services online worldwide. The main idea of social media marketing is to utilize the vast traffic via social networks like Facebook, YouTube, Twitter, LinkedIn, forum as well as blog marketing to your website.
While interacting with people, you are building strong relationship, at the same time branding yourself and establishing trust. Once you have established yourself and your business through social media marketing, word of mouth will go around fast and recommendations are made easily. Selling then will become easier and faster as more and more people learned about you and your website. You can also branding yourself as expert in your industry through proper social media marketing.
It is not surprising to learn that businesses, ranging from small to large ones, are now seeking social media specialists particularly in the U.S. to help them set up their own campaigns and handle the intricacies and details involved. Once set up, all they need to do is merely establishing relations with potential buyers and keeping customers through relationship marketing, as well as upsell all their products and services online.
Our scopes of social media services include the following:
Facebook, YouTube, and Twitter profile creation and design
Relationship marketing and community building
Branding and promotion campaign
Social media integration
Blog setup, design and promotion
Business blogging / blog marketing
Forum marketing
Facebook advertising
Our social media marketing package is ranging from small setups such as profile creation to running the whole social media marketing campaign. Contact us for details, our social media marketing consultant will walk through with you how important to have your own social media campaign to promote your products and services.